Getting Started
Starting the service
The first time you run the Android app, and subsequently every time you reboot your phone, you'll need to initiate the software using a little utility called the GameBench Android Service Launcher.
Download the GameBench Android Service Launcher:
Connect your device:
Note: You may receive a pop-up on your device asking you to allow USB Debugging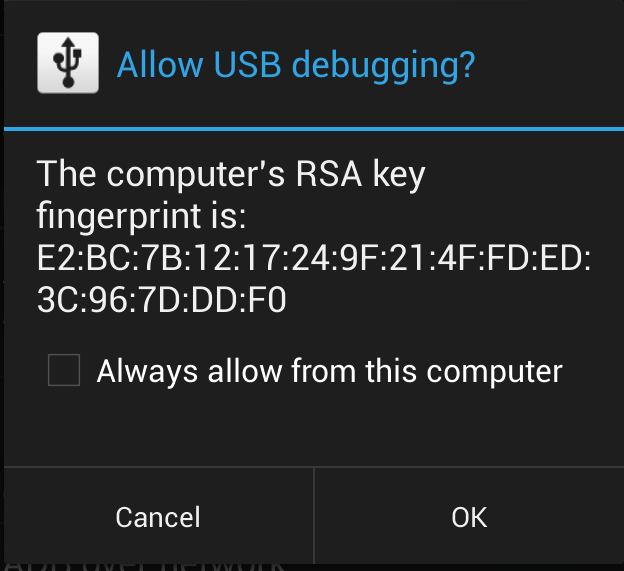 Please check the "Always allow from this computer" box and click OK)
Run the GameBench Android Service Launcher
Right-click the Launcher and click "Run" or "Open" to start it.
Logging in
You must use the same GameBench account credentials to login to the Android app as the ones you used to log into the GameBench Web Dashboard and every other GameBench service.
Generating your first session
From the main app interface, you need to select and add the apps/games you want to test.
Tap the "+" button in the bottom left of the home screen to open a list of all the apps on your phone, and choose one you're interested in. It will then be added to your GameBench list.


Next, tap the "Play" button to the right of this app's title in order to launch it and start profiling. You'll see a red "Stop" button and a ticking time counter to indicate that GameBench is recording.

(Note: you can drag this counter to a new location if it gets in the way of any onscreen objects.)


Hit "Stop" when you've finished your session (we recommend at least two minutes of recording to be able to see more accurate data). Your data will automatically sync to the cloud. You can view your session by visiting your web dashboard
Once this is done, you can drill down into your session either by tapping the "Graph" button beside the app title on your mobile device, or by going to the GameBench web dashboard for fuller and better visualisation on your PC's larger display.
Last updated on