User Guide
Latest Version: 0.2
Status: This version should not be included into release or release candidate games. v0.2 is suitable for Alpha/Beta testing
---
This guide will document the installation of the Gamebench SDK product, The intended audience is the end user and support teams.
End User: Game developer outside of Gamebench
Support Team: Gamebench support
---
Please create a fresh gamebench account to upload your SDK sessions to.
Product Definition
The Gamebench SDK product is a unity package that can be imported into a developed game to provide performance Metrics such as FPS for the run time of a game session. The performance metrics will be uploaded to a Gamebench backend and a session can be viewed in the in the same way a session recorded using the Gamebench app can. The SDK product is deployed in a  unity import package:
The installation of this package is intended to be dragged and dropped in the Unity IDE, Detailed installation Instructions are available in this Document.
The Gamebench SDK can measure:
You can expect a minor overhead for including our product into  your game. we expect:
CPU
Memory 
Upload size

20Kb based on 1 hour session
Installation
Supported Unity versions
Windows
Unity 2019.x
Unity 2018.x
Unity 2017.x
Mac
Unity 2019.x
Unity 2018.x
Unity 2017.x
Supported Platform versions
Android 5.0 +
iOS 10,11,12
Instructions
Prerequisites
gamebench.unityPackage

Windows and OSX: Please contact support for access to the gamebench SDK package
Steps
Open unity and your game and navigate to the project tab.
Take the gamebench.UnityPackage, drag and drop the package into the unity project.

expect to see and import dialog:

Ensure that all items are selected and click import

You will be prompted to configure the SDK

Select open to configure the SDK, the configuration options will be detailed in the following section

Once configured select the Apply button

Build and run your game, see "Runtime" for information on your gamebench session.
User Prompt
During Installation if you do not apply your configuration you will be prompted to configure SDK each time you open Unity.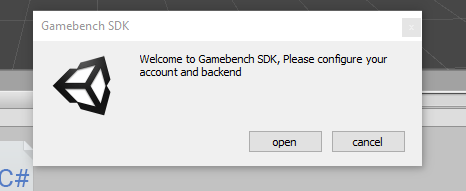 Uninstall
To uninstall the Gamebench SDK you will need to remove from the filesystem:
Assets/GamebenchSDK
Assets/Plugins/Android/communicateLibrary.aar
Assets/Plugins/Android/libgbsdk.so
Assets/Plugins/iOS/libcore.a
Assets/Plugins/iOS/libgbproto.a
Assets/Plugins/iOS/libgbsdk.a
Assets/Plugins/iOS/libmetalib.a
Assets/Plugins/iOS/libprotobuf.a
Assets/Plugins/iOS/libsession.a
Assets/Resources/GamebenchSDK
Configuration
Selecting the GamebenchSDK->Configure menu option will give the Configuration menu.

Options
Core Settings
Server developer URL
Email Address

Your Account on the Gamebench backend, Used to associate your session with your account
Activate
Enable Gamebench SDK

When enabled SDK will be compiled into your game to collect metrics, if you wish to disable SDK without uninstalling you can toggle this option.

Apply

IMPORTANT, Please click to save your settings for the SDK to work.
Runtime
Once the SDK is installed, running the game will start collection of Performance metrics. Once the Game application is stopped and closed on the phone the session will be uploaded to the Gamebench backend.
If the Game is put into the background and there is at least 30s of data then the sesison will be uploaded. On returning to the app a new session will start.
Only sessions longer than 30s are uploaded to ensure more meaningful information can be viewed from the dashboard.